Leveraging Shopify Metafields or BigCommerce Custom Fields allows for the creation of powerful filters and search functionalities, enhancing the customer experience and enabling seamless product discovery in your online store.
Our app is compatible with metafields and custom fields that can accommodate multiple values, offering flexibility and versatility for your store's data management needs.
Step 1: Allow app to index metafields or custom fields
From the admin dashboard, click on the settings/gear icon at the bottom of the sidebar.
Click Search Index tab, then scroll down to Index card.
Turn off the Omit Metafield option.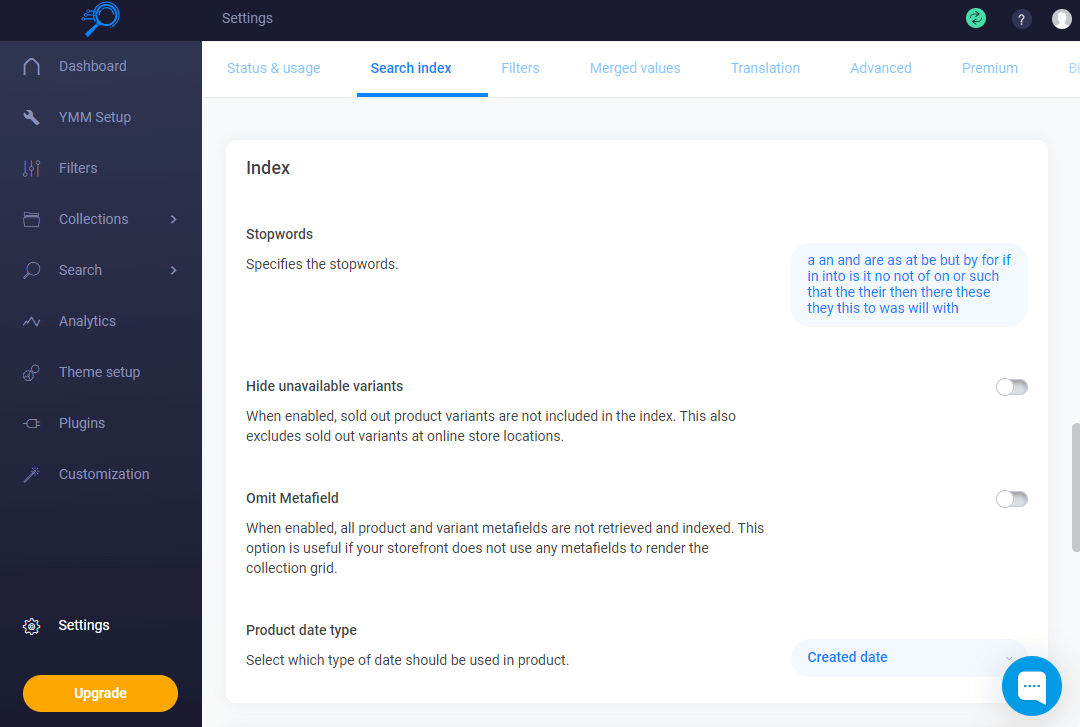 Step 2: Add metafields or custom fields to search field
Above the Index card. Click the 'Add Metafield to search fields' or 'Add variant metafield to search field' button.

Specify the namespace and key of the field. Example, specification.ram where specification is namespace and ram is key.

To create custom fields in BigCommerce, leave the namespace empty and enter custom field name as the key. e.g. if your custom field name is Length, the Namespace and key input box should be .Length.

Select value data format type as Text or Number. Choosing the Number value format enables the setup of range sliders in the filter, while Text allows for multiple values per Metafield or Custom Field.

For example: you add the metafield values for product A as sports, outdoor, spring and for product B as jogging, outdoor, summer and want to show add fiters by specific values. When customers select sports and/or spring, they will see the product A, while summer will show the product B.

The Delimiter lets you split the single value into multiple values. e.g. if your value is red,green,blue and the Delimiter is ,, your values are red, green, and blue.

You can add multiple Metafields to Search results by clicking on ADD METAFIELD TO SEARCH FIELDS.

If you change anything in search index settings, click Sync button (Orange/Yellow butoon at the top right corner of the app) to reindex the product data.