A Filter Group is a set of filter options designed to provide meaningful product results and simplify data filtering by allowing you to select filter values. The product filtering system utilizes an indexing system that enables access and exploration of data from various dimensions using filters. With this system, you can easily narrow down your search results using multiple criteria to achieve your desired outcome.
By setting up a filter group for specific collections or search, you can customize the display of your filter options. This ensures that your chosen collections or search will show the particular filter group you created instead of the default filter options.
Default Filter Group
Our app automatically creates a default filter group for product filtering on Collection pages and Search result pages. This filter group is based on the product attributes of your store, such as Vendor, Collection, Product Type, and Price.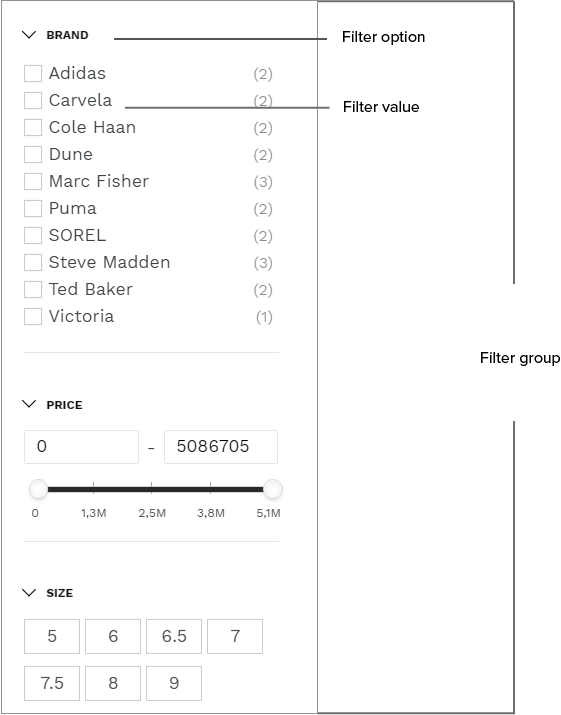 The default filter group includes options like Occasion, Style, Length, Decor Style, and Finish, but it only displays relevant product attributes depending on the collection and search results. For instance, it will show filter options like Occasion, Style, and Length on the Dresses collection and filter options like Decor Style and Finish on the Sofas collection.
Please note that store owners cannot delete the default filter group, as it is generated by our system. However, you can customize its title and existing filter options, or add new filter options to the default filter group.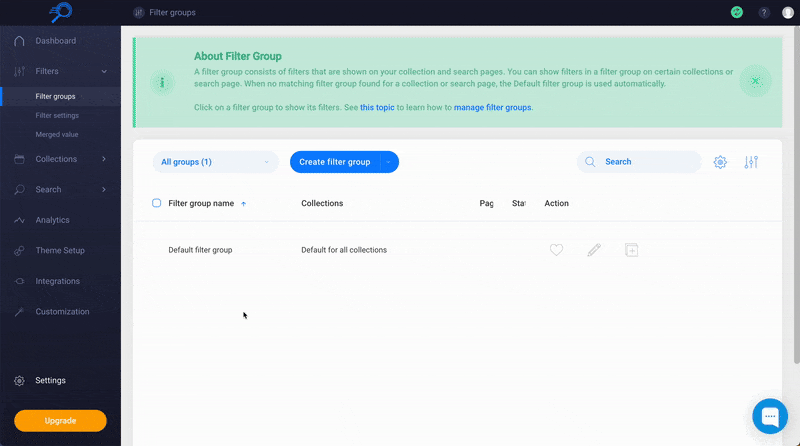 Create a new filter group
To customize the filters shown on your search result pages and collections, you can create a new filter group. For instance, you might want to show the "Price" filter on the Headphone collection but hide it on the iPhone case collection.
To create a new filter group, see this topic.
Once you've created a filter group for a specific collection or search result page, our app will display that group instead of the default group. If you haven't created a custom filter group for a page, the app will show the default filter group.
What is Dynamic Product Filtering?
Filters in Sobooster Search & Filter provide a user-friendly way to refine data based on meaningful attributes. Our dynamic filter options adjust based on user selections, making it easy to narrow down your search. Our ranking system evaluates filter values based on intra-facet and inter-facet scoring, comparing attributes to determine their usefulness in relation to others.
For example, when browsing the digital camera collection page, the left sidebar offers a "Brand" filter with options such as Canon, Fujifilm, Nikon, Olympus, Panasonic, and Sony. After refining the price range to $159.99 to $349.99, the filter list will dynamically update to show only digital cameras within that price range. Clicking on any of the displayed filter values further narrows down the search results. Applied filters can be easily removed by clicking on them in the breadcrumb trail, providing a seamless browsing experience.